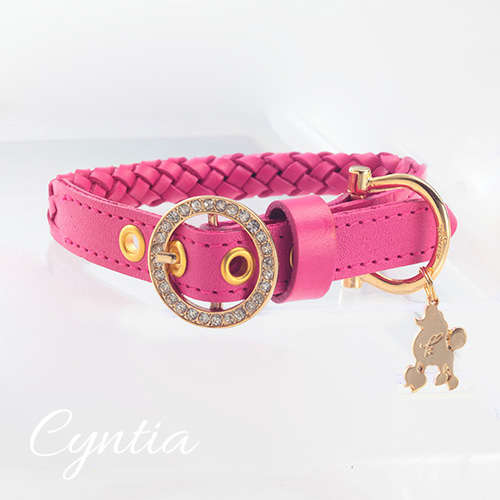 Kierry's Cyntia collar for dogs – shocking pink (M)
$89.00
Kierry's Cyntia line is made specially for poodles, pairing a poodle charm with leather strips braided into a slim, round, band.
The fine stitching and luxurious feel of leather are perfect for the most stylish of poodles and their celebrity owners.
Only 1 left in stock (can be backordered)
Free shipping within Singapore on orders over $40!
Description
Material: Genuine leather
Neck circumference: About 19.5cm – 24cm
Note: The stones in the buckle may come loose if caught on clothing, claws, nails, etc.
Kierry's is a dog accessory brand by Japanese designer Maiko Toriumi. A dog lover herself, she was inspired by her 3 dogs to create her own line of accessories to keep pace with her own clothes and bags.
Kierry's designs fashionable and cute collars and leashes, for dogs of all sizes. Every design is original and carefully thought out, and quality of material is of utmost importance. Only good-quality leather is selected and dyed, and even the metal parts used on collars and leashes are designed and produced in-house.
Magasin Miyabi is excited to collaborate with Kierry's to bring a new level of luxury to pooches in Singapore and beyond!
Product Enquiry