Buddy Belts Premium ID Collars (Pink)
$25.00 – $34.00
Inspired by a little Dachshund named Buddy and handcrafted in Canada, the Buddy Belts ID Collars are made to match Buddy Belt's sturdy yet fashionable soft leather harnesses. Allowing you to hang your dog's ID tags or anti-flea charms, it is a perfect complement to the Buddy Belts harnesses in terms of both practicality and fashion!
Size chart (click to enlarge)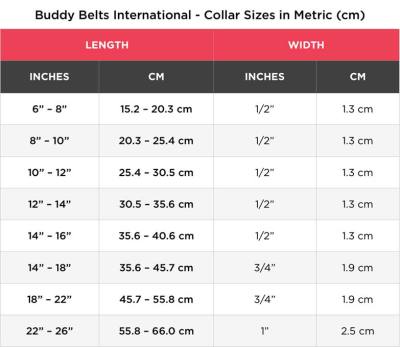 Free shipping within Singapore on orders over $40!
Description
Quality workmanship and care are engineered into every Buddy Belt product. Buddy Belts are handmade in Canada, and have been thoroughly tried and tested to ensure that the materials used are of the best quality.
Note:
The product picture features the Buddy Belt ID Collar with a 3/4-inch width.
The length indicates the distance between the loosest & tightest adjustment eyelets.
Be sure that there is extra room for comfort between the collar and your dog's neck when worn.
It is strongly recommended by the maker that you supervise and closely monitor your dog when first using the Buddy Belt ID Collar, until it has become accustomed to the product.
Store your Buddy Belt ID Collar out of your dog's reach, to prevent your dog from chewing on the collar.
Additional information
| | |
| --- | --- |
| Size | 6–8 inch, 8–10 inch, 10–12 inch, 12–14 inch, 14–16 inch, 14–18 inch, 18–22 inch, 22–26 inch |
Product Enquiry
You may also like…