Momoko's Limited Edition "SAKURA" Collar by Buddy Belts
$39.00
Momoko's special order of "SAKURA" Special Edition 2018 luxury collar with 1 crystal / laser cut flower embellishment
Out of stock
Free shipping within Singapore on orders over $40!
Description
LUXURY COLLAR

"SAKURA" Special Edition 2018 luxury collar with 1 crystal / laser cut flower embellishment (Size 10″- 12″ x 1/2″wide) – $39
*Image for "SAKURA" collar is currently unavailable. The picture below of Premium Pink collar without sakura embellishment is for design reference only.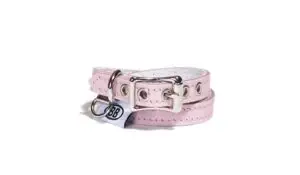 Product Enquiry